The Catfish Experience
Would you, or would someone you know, like the experience of fishing for one of these huge European predators right here in the UK? My Catfish Experience offers just that chance. All of the tackle, bait and tuition is included, and over night use of bivvy, bed and sleeping bag can be arranged for your catfish fishing lesson. I'll explain all about the Wels catfish, it's behaviour and the best ways to catch one. You'll learn how to tie rigs and all about which baits work best as well as looking at the finer points and what's important when fishing for one of these hard fighting monsters!
My Catfish Experience or catfish fishing lessons are held in one of two locations in the UK, both are very well regarded fisheries and have excellent facilities, bookings can be taken for selective times between April and October each year.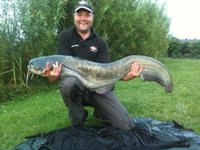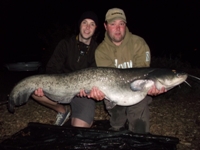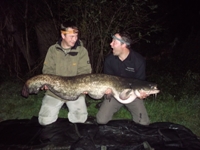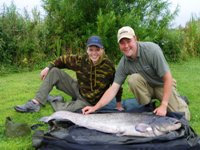 A one to one, 24 hour, Catfish Experience is priced at £199 (Over 18's only)
A 24 hour Dad and Lad / two person Catfish Experience is £299