Carp Fishing Tutorials
I have been carp fishing for many years, I see it as my strongest suit and an angler. I am a consultant for Aqua Products and supported by Cygnet Tackle and Sticky Baits. I also write articles for Total Carp magazine.
If you are an angler who is looking to develop your skills in fishing for big carp, a tutorial or lesson or two will stand you in good stead. I can help you to catch your first carp or give you an insight into upping your personal best. I can provide use of top quality equipment from Aqua Products, Cygnet Tackle, Fox, Gardner, Korda and Shimano which we will use in conjunction with high quality bait from Sticky Baits. Each tutorial is about learning new skills, however I pride myself on offering informed, relaxed, passionate and good fun sessions. I can't guarantee how many fish we will catch but I will guarantee to do my best to make sure you get what you want from the session.
Before you book a tutorial I will discuss with you what you are looking to get from the session and then advise you on which option / venue I think will be most suitable. We will always fish the most likely method on each given day, however if there is a tactic that you want to learn more about we can build this into any tutorial. Whilst your day session tutorial is running it goes without saying that I don't fish so that all of my attention is on helping you. However on longer tutorials 24h or 48h you might prefer me to get the rods out alongside you so that we can go through regular practicle demonstrations, the choice is yours .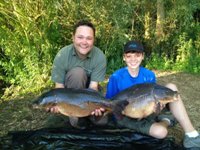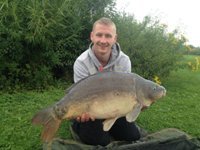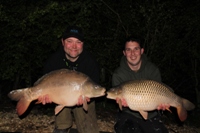 Options:
Beginners Day session: My day session carp tutorial is aimed at those who are just starting out in their carp fishing. We go through tackle set up, rig tying, rig safety, bite indication, basic casting, bait and bait presentation, basic pva work, fish playing, fish care and photography of your capture. For this type of session I use lake 2 at Bradshaw Hall Fishery where there is a good head of double figure and a few 20lb+ carp to go at. Use of all tackle, bait and fishery tickets are included in the price and I can provide hot drinks throughout the day.
Intermediate Day session: This session focusses on more technical skills and is aimed at the carp angler who is looking to refine thier skills. Things like feature finding using the marker rod, baiting using a spod rod, using marker/distance sticks, casting technique, hitting the clip and feeling leads down can all be covered on a suitable water such as Pilsworth fishery. As with all of my tutorials use of all equipment and bait is included in the price and I can provide hot drinks and shelter throughout the day.
Winter day session: Fishing for carp in the winter can be frustrating and at times we've all sat there wondering if there really are any carp in the water facing us. My winter carp fishing tutorial is full of thoughts, ideas and tips on how to be successful during the colder months. Discussions and demonstrations on rig choice, rig tying, bait choice and approach will be covered and, as always, use of tackle, bait and fishery tickets are included in the price. I'll be on hand throughout the session making hot drinks which can be enjoyed in the comfort of the large day shelter! I use lake 2 at Bradshaw Hall for this session and winter bookings can be taken between the 1st October and the 31st March each year.
24 hour session: A twenty four hour carp fishing tutorial is aimed towards the angler who has done lots of day session fishing and is now looking to do their first night session or get to grips with night fishing. The topics that we cover are slightly more advanced and include all of the above as well as watercraft discussions, baiting strategies and a little more advanced rig tying. I provide all of the tackle and use of a bivvy, bedchair and sleeping bag can be arranged. Favourite locations for this type of session include Clearwater Fishery, Pilsworth, Wyreside and Bradshaw Hall.
48 hour session: My 48 hour carp fishing tutorials are really for the reasonably experienced angler who is looking to target bigger specimens and fine tune their skills. Topics covered include a recap of the basics as well as marker and spod work, casting technique, advanced rig tying, various pva applications, watercraft discussions, baiting strategy and much more. I can provide use of any kit such as bivvies and bedchairs etc. Locations for this type of session can include local waters like Pilsworth, Clearwater Fishery and Wyreside.
I am always happy to be flexible to your requirements and if there is something very specific that you are struggling with or want to concentrate on we can build that into your tutorial.
Prices for Carp Fishing tutorials are as follows.
Day session 8am-4pm
Midweek
For one angler - £150 (a non-fishing parent can accompany a young angler at no added cost)
For two - £200
Weekend / Bank Holiday day session
For one angler - £200 (a non-fishing parent can accompany a young angler at no added cost)
For Two - £250
24 hour - overnight session are availble during the midweek only
For one - £225
For two - £325
36 hour - midweek only
For one - £275
For two - £375
48 hour - midweek only
For one - £325
For two - £425
*Day sessions at Bradshaw Hall Fishery - day ticket included in price.
**Day session at another location and 24h, 36h and 48h prices do not include fishery tickets.
Under 18's must be accompanied by a responsible adult during the hours of darkness on 24h, 36h or 48 hour tutorials. No charge is made for a non-fishing guest by IYF.
The photographs are all taken from my carp fishing tutorials.